Past Productions and Events
Moon Fly Unlocked: Zoom Readings (April/May 2020)
We were hoping that the next time we saw you would be with a full production. The global situation regarding Covid-19 means that this will not be feasible until next year at the earliest. Until then we decided to share two new plays over Zoom…
First up was 'if they call it night' by Cameron Forbes
Cast: Emma Lynne Harley, Sean Langtree
The following week we presented 'Kerbs' by Sean Dennis Langtree
Cast: Lucy Goldie, Alan Mackenzie
Traverse Bar Return (Nov 2019)
After a successful evening earlier in the year, Moon Fly Theatre returned to the Traverse Bar Café with two readings of new work.
New plays from Sean Dennis Langtree and Cameron Forbes were performed script-in-hand in the intimate bar space.
Scattered by Cameron Forbes (Dir Emily Ingram)
Lucy lost her mum two years ago. She now lives with her estranged dad who locks himself away every night and barely speaks. The only person she can turn to is the school arsehole Harris who suggests drastic action. A coming of age tale about grief, friendship and absence.
CAST: JOE JOHNSON, RACHAEL KEILLER, MARK MCMINN
Yemen by Sean Dennis Langtree (Dir Alice Langley)
Yemen follows six stories set in different countries ranging from Iran, Ecuador, Britain and Yemen. A pro-feminist piece looking at the treatment and prejudice women have faced, and also examines the seeds of extremism. Yemen is about six women who abduct and torture a man.
CAST: KELLY DAVIE, CATHERINE ELLIOT, MISHA MCCULLAGH, ALISON MCFARLANE, VIVIEN REID, DEBORAH WHYTE
Formation Festival @ Assembly Roxy (2019)
On the 28th Of June, Moon Fly Theatre presented two rehearsed readings as part of the Formation Festival at the Assembly Roxy.
IT NEVER ENDS by Cameron Forbes
Directed by Emily Ingram
Cast: Kelly Davie, Alison McFarlane, Sean Langtree
YEMEN By Sean Dennis Langtree
Directed by Alice Langley
Cast: Kelly Davie, Emma Findlay, Alison McFarlane, Olivia McKay, Vivien Reid, Deborah Whyte
Fear & Desire @ The Canons' Gait (2019)
On the 24th May 2019, Moon Fly presented an evening of six ten minute plays, written by six different writers. All performed script-in hand after a same day rehearsal.
SMOKE by Jennifer Adam
BALLOONS by Cameron Forbes
COMMON APPOINTMENT by Sean Dennis Langtree
BONES by Hayley Scott
SILENT SCREAMERS by Sam Siggs
TINY CREATURES by Julie Tsang
Directed by Nikki Kalkman & Amy McKenzie
Cast: Chris Allan, Lucy Goldie, Linda Duncan McLaughlin, Sean Langtree, Madeleine McGirk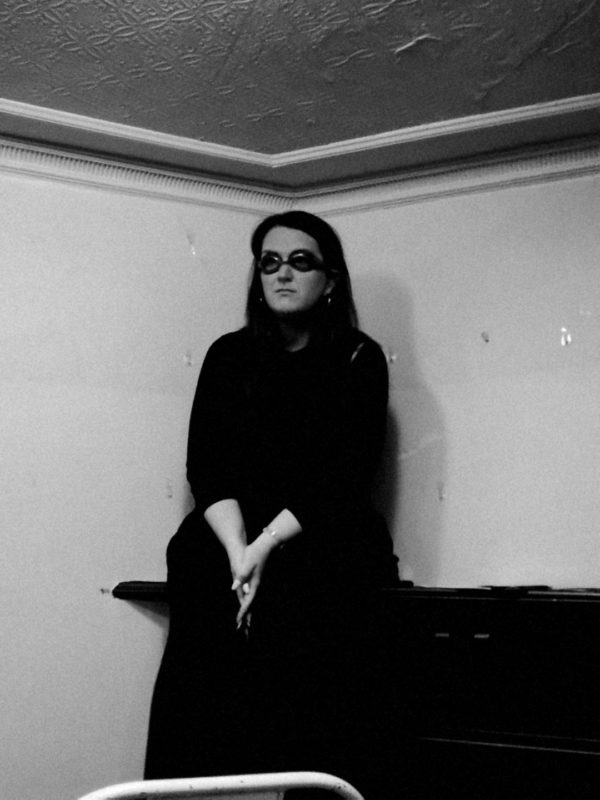 Moon Fly Readings @ The Traverse (2019)
On 26th January 2019, Moon Fly Theatre presented an evening of one-act plays and sketches. Writers Cameron Forbes and Sean Dennis Langtree showcased brand new works in informal script-in-hand readings in front of an audience of more than 100 in the Traverse Bar Cafe.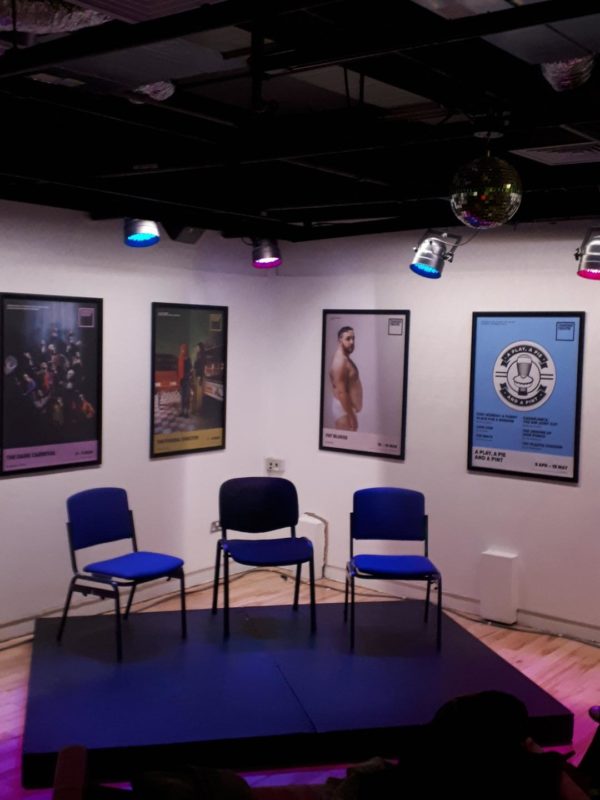 Frederick George Rosie by Sean Dennis Langtree
Directed by Sofia Nakou
Cast: Mhairi McCall, Cameron McGarva, Sarah Miele
It Never Ends by Cameron Forbes
Directed by Emily Ingram
Cast: Sean Dennis Langtree, Mhairi McCall, Sarah Miele
If They Call It Night by Cameron Forbes
Directed by Jack Elliot
Cast: Emma Lynne Harley, Colin Macdonell
Fast Train Approaching by Sean Dennis Langtree
Directed by Isla Cowan
Cast: Joe Johnson, Ewa Malicka, Vivien Reid
A Face That Fits (2015)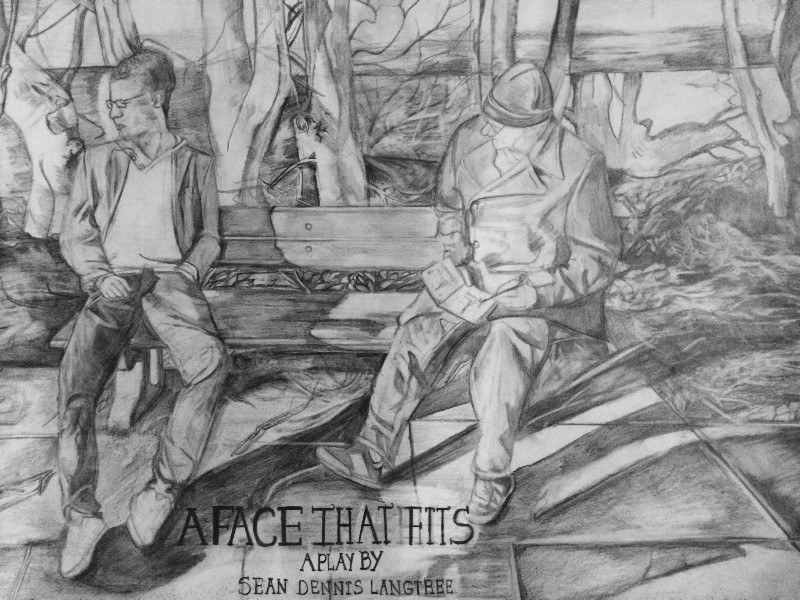 Edinburgh Fringe Festival
Written by Sean Dennis Langtree
Directed by Martin Haddow
Cast:
Boy: Mark McMinn
Man: Vincent Maguire
Venue: theSpace@Surgeons Hall
Three Weeks: 4 stars
Broadway Baby: 3 stars
Synopsis
Lights. A young man is sitting alone on a park bench. Enter stranger who requests to draw him. Intrigued, the young man agrees. A Face That Fits is a coming of age story that deals with the clashes of two different generations. Written by Sean Dennis Langtree, a play by Moon Fly Theatre Company making its world premiere at this year's Edinburgh Fringe.
Tickets: https://tickets.edfringe.com/whats-on/face-that-fits | Download Flyer
---
Rehearsed Reading
On the 8th April 2015 'A Face That Fits' had a rehearsed reading at the Arches in Glasgow.
Below are some production shots from the reading (click to view):
The 'Boy' was played by Alan MacKenzie and the 'Man' by David Gallacher.
Photography by Christopher George Reynolds